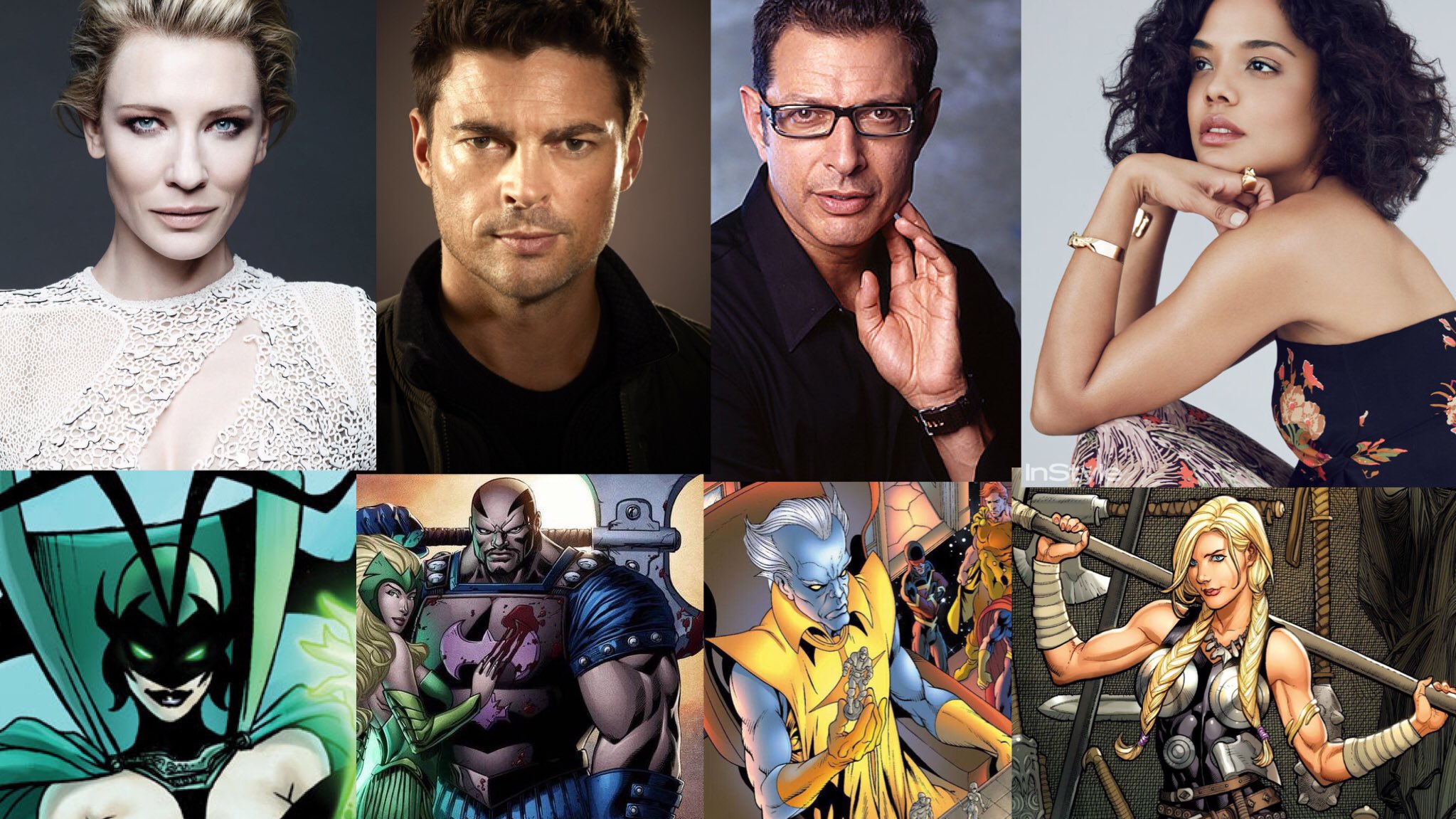 This afternoon, Marvel gave an exciting, updated press release regarding their upcoming 2017 feature film Thor: Ragnarok.
Two-time Oscar®-winner Cate Blanchett ("Blue Jasmine," "Carol, "Cinderella") joins Marvel Studios' "Thor: Ragnarok" as the mysterious and powerful new villain Hela, along with Jeff Goldblum (the upcoming "Independence Day: Resurgence," "The Grand Budapest Hotel," "Jurassic Park") who joins the cast as the eccentric Grandmaster, Tessa Thompson ("Creed," "Selma") who will bring the classic hero Valkyrie to life on the big screen, and Karl Urban ("Star Trek" trilogy, "The Lord of the Rings: Return of the King") who will add his might to the fray as Skurge.
This update follows a variety of rumors and speculation about a spate of actors being added to the film, and in what roles. While Tessa Thompson's inclusion in the third Thor movie had been confirmed weeks ago, for instance, the news that she is playing Valkyrie is new.
Thor was notoriously absent from Marvel's most recent Captain America: Civil War movie, which included most of the other Avengers, save for Bruce Banner/The Hulk (Mark Ruffalo) who is also slated to appear in Thor: Ragnarok. Other returning favorites include Tom Hiddleston as Loki, Idris Elba as Heimdall and Sir Anthony Hopkins as Odin.
Regarding these most recent additions, Marvel Studios President Kevin Feige stated:
"The continuation of the epic Thor franchise will be powerful and unique, and with the additions of Cate, Jeff, Tessa, Karl, and Mark to the cast we have the makings of his most dangerous and heroic adventure yet. The sheer, raw talent each of these actors brings to the screen can't be quantified. Having any one of them join the Marvel Cinematic Universe would be an honor, and having all of them is incredible."
Thor: Ragnarok is set for release November 3, 2017.
Source: Comicbook.com