Aquaman Gets Pushed Back to Christmas 2018
Looks like thirsty women everywhere will have to stay parched just a little longer. Warner Bros. announced today that Aquaman, starring Jason Mamoa as the title character, is being pushed back from its October 5, 2018 release to December 21, 2018.
Aquaman will now be opening on the day that was originally carved out for James Cameron's Avatar 2, which has already been delayed multiple times since its announcement. It's not a significant delay. Just enough to stay fresh in our minds for awards season…?
There seems to be a lot riding on Aquaman. BvS and Suicide Squad were both critically bashed despite their commercial successes. Even more pressure might befall on the sea-king's muscly shoulders if Wonder Woman turns out to be just as terrible as its DC Extended Universe predecessors. And who knows how many lessons WB will (not) learn after that?
Jason Mamoa is best known for his work as Khal Drogo in Game of Thrones, but did you know that he's not a stranger to playing characters closely related to the water? Mamoa got his big break on Baywatch Hawaii where he plays 19-year-old Jason Ioane who moves to Hawaii to join the Baywatch crew. That was about 20 years ago. It's weird seeing him with a babyface knowing what he looks like today. The After is definitely hotter than the Before.
Do not despair too much, Aquaman fans. He's still showing up in the upcoming Justice League movie premiering later this year. That might hold us over for a bit. Hopefully. Until then, we'll just keep watching these .gifs: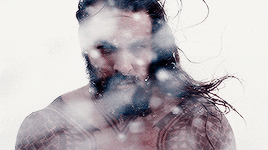 They better have a great white shark jumping out from the water to grab a bad guy. Just saying…
Source: Variety